Arts of Tolland is pleased to offer Brandywine Woodcraft miniatures of the Arts Center of Tolland.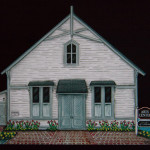 At 4.5 inches tall and 5.5 inches wide, the Arts Center miniature is beautifully detailed and features the 1879 Center amidst a garden of springtime flowers. The price is $20.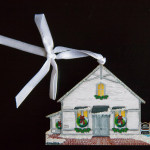 Local collectors especially like the 2.5 inch by 3.5 inch Arts Center ornament, complete with sparkling snow on the ground and our beautiful Art Mart wreaths on the windows.  The miniature ornament has an eye-hook and ribbon so it can easily be hung from a wreath or tree. The price of the ornament is $10.
The Arts Center of Tolland is part of the Tolland Historical Society's Series of historic buildings.  For information about the other miniatures in the series go to www.tollandhistorical.org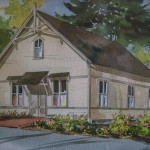 The Arts Center of Tolland Original watercolor by Art Scholz
In 2010, retired commercial artist and AOT member Art Scholz created a beautiful watercolor painting of the Arts Center.  The 8 x 10 giclee print is matted (11 x 14) and is priced at $25.
To purchase a miniature or the giclee print of the Arts Center, call the Arts Center at 860-871-7405 or email us at artsoftolland73@gmail.com.